How to Know When You're Getting a Good Deal on Your Auto Repair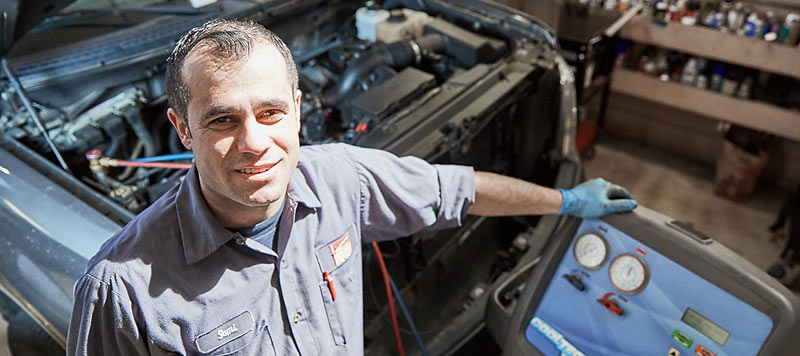 Getting a fair price for your auto repair is on every car owner's agenda. But how can you know when you're getting a fair deal and when you're getting ripped off?
Fortunately, there are some solid principles for helping you to know a fair price from a padded one before agreeing to the repair. Here are seven principles to keep in mind.
1. Go over the auto repair estimate in detail.
Instead of getting straight to the "bottom line," ask for a detailed breakdown and explanation of the following items along with the charges for each:
Parts
Labor
Miscellaneous fees (such as oil or tire disposal)
Total estimate
You should only authorize repair work that has been disclosed and explained.
At Hong Kong Auto Service, we provide customers with itemized estimates and invoices for parts and services.
2. Ask to see the parts that need replacing.
If you are questioning whether your brake pads, rotors or serpentine belt really need to be replaced as the mechanic suggests, ask to see the old parts. If you're waiting at the service center for a repair estimate, the mechanic can simply show you the parts that need replacing. That's easy. But many repair estimates are completed while the owner is at work or home. At Hong Kong Auto, we will take digital photos at your request. That way you have a visual image of the part when talking with us. The service facility's willingness to show a customer the old parts and explain why replacement is needed is usually a sign of honest communication. That's why we always honor a customer's request to inspect replaced parts and answer any questions you may have.
3. Consult your owner's manual.
Routine maintenance is a good way to prevent problems later on. But some service centers may recommend maintenance before it's necessary. To know whether your vehicle needs a brake fluid flush, new transmission fluid or other routine maintenance, start by checking the maintenance schedule in your vehicle's owner's manual to get a general idea of when servicing is recommended. Most owner's manuals have a regular maintenance schedule and then a heavy-use maintenance schedule that takes into consideration more severe driving conditions, such as lots of stop-and-go traffic, potholes and extreme temperatures. (Hint: Chicago is considered to be a heavy-use or severe-use area.)
4. Get more than one repair estimate for your auto repair.
If you are looking at a sizable repair or are unsure whether you are getting a fair deal on the estimate you received, consider getting a second or third estimate from other auto repair service centers. These estimates can only be reliable by taking the vehicle to each shop so the mechanic can assess the needed repair. In fact, if you try to obtain an estimate over the phone, most service centers will not give a specific estimate or will only give you a broad price range for the repair. A quick comparison of the final estimates, assuming the same grade of parts and brands, will usually give you the information you need. If the estimates are similar in price, then you can be relatively certain that the repair is fairly priced. One downside of getting multiple estimates is the fee each service center may charge to diagnose the problem. The service fees may be the difference you might have saved by going with the first estimate.
5. Get an online estimate for your auto repair.
You now have the option of getting a realistic service estimate for your vehicle's repair by visiting one of many online repair estimate sites. For example, Consumer Reports sponsors a free site called Car Repair Estimator. Simply choose the type of repair or maintenance you are seeking along with the make and model of your vehicle and then insert your zip code. The site will give you an average price for that repair service in your geographic area. Some of these estimator sites are free, some charge a nominal amount ($10) but it can be a great starting point to get a realistic baseline price.
6. Check out the qualifications of the facility's mechanics.
If you take the long-term perspective, you are likely to have fewer repairs if you get the job done right the first time. So it is worth checking to see if your service facility has ASE-Certified Technicians. ASE is the gold-standard certification promoted by the National Institute for Automotive Service Excellence. An ASE-Certified Technician has passed rigorous testing, has at least two years of on-the-job training or one year of on-the-job-training and a two-year degree in automotive repair. An ASE Master-Certified Technician has passed all 8 exams in the series, and an L1 certification means s/he has passed an advanced level exam for engine diagnostics. ASE-Certified Technicians are retested every five years to ensure that they are keeping current on recent auto technology. Hong Kong Auto has ASE-Certified Technicians who engage in ongoing continuing education to stay current with advancing automotive technology.
7. Check out online reviews of the auto repair shop.
If you aren't sure about the reputation of a service center, look at online reviews of what previous customers have said about their experience with the center. Pay particular attention to the level of customer satisfaction and whether they would use that service center again.
Getting a fair deal on your auto repair or maintenance is not as difficult as it might seem. All it takes is a little attention to detail, asking a few questions and perhaps even doing a little homework before you take your car in. These simple steps can give you the peace of mind that you are getting competent work at a fair price for your auto repair.
Finally, what do you do if you have a favorite service center with reliable mechanics and technicians you trust, but their price is higher than other shops? For starters, you can show them other estimates you've gotten for the same work. Many shops will match the price to win your business. But it's also okay to ask them why their prices are higher. Higher servicing costs might be justified because they're using higher quality parts, have more experienced technicians, longer labor and parts warranties, or provide better amenities for their customers like loaner cars or shuttles. It never hurts to ask. You may find that their attention to these value-added details gives you the peace of mind that your vehicle is in good hands and it's worth the extra dollars to work with people you trust.